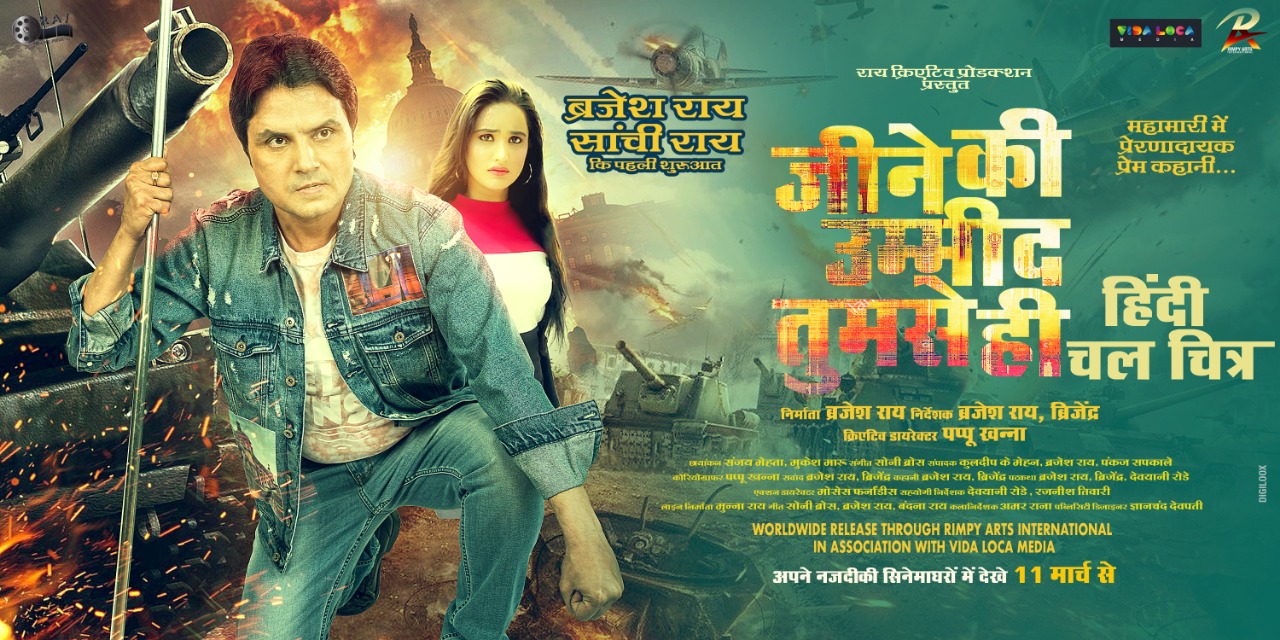 JEENE KI UMEED TUMSE HI
(RELEASED ON 12th MARCH 2021)
RAI CREATIVE PRODUCTION presents World Corona First Hindi Film 'Jeene Ki Umeed Tumse Hi' which is a Pandemic, Love Story. The movie is about the current pandemic situation the world is facing, that is Corona Virus (Covid-19). It is also followed by a love story in it. It is WORLD CORONA FIRST HINDI FILM. The movie is produced by Mr. Brajesh Rai and is directed by Brajesh Rai & Brijendra .
SYNOPSIS OF THE FILM
The story revolves around various social and political issues of rural and urban India like unemployment poverty and corruption.
Vijay (Brajesh Rai), a young educated boy from rural India, notices some anti-social activities in the society and stands against it. Biggies involved on these activities don't want people to live a good life and hence stand against Vijay's good ambitions.
While fighting his social battle, Vijay falls in love of a girl named Saloni (Sonia Bansal), who is daughter of a well-known landlord, who is already an enemy of Vijay.
Things get complicated and Vijay has to leave his hometown with broken heart but he never forgets his love Saloni (Sonia Bansal). Vijay realizes that power is needed to fight the powerful.
In his quest for empowerment, he joins an auto engineering. His hard work and dedication help the company grow and prosper. His bosses award him with promotions and accolades. While working at his new firm, Vijay meets Rubi (Sanchi Rai) and falls in love with her.
Just when life shows some promise, things fall apart for Vijay. He gets trapped in company politics and conspiracies and loses his creditability. Rubi and workers from his company continue their support towards Vijay and his efforts.
At the time, when whole world is fighting to survive the COVID-19 infection, Vijay and Rubi help the needy. Vijay is garnered with praises and accolades once again, for helping the poor and needy and becomes a messiah in their eyes.
Vijay regains his credibility and gets an offer from a reputed company, Swastik auto engineering. Vijay and team lead the company to the pinnacle of success.
His achievements and aura spreads far and wide and set an example for the youth for which Auto Engineering Association recommends him for Udyog Ratna Award.
In this end, Vijay after losing his first love, Saloni, finds warmth and new love in Rubi.
JEENE KI UMMEED TUMSE HI (CREDITS)
SPECIAL THANKS TO
Swastik Auto Engineering
Mr. Vijay Kumar
Bandana Rai
Munna Rai
Sameer Rai
Durgesh Rai
Anjna Rai
Late Jagdish Prasad sharma
Rai Creative Production
Presents
राय क्रीएटिव प्रोडक्शन
प्रस्तुत
JEENE KI UMMEED TUMSE HI
जीने की उम्मीद तुमसे ही |
CAST
Introducing Brajesh Rai
Sanchi Rai
Sonia bansal
Asha Singh
Devdutt Budholiya
Pankaj Chaudhary
Rajnish Tiwary
Irfan Qureshi
Maqsood Ahmad
Sunil Dutt Pandey
Panwati Sharma
Parvati Devi
Durgesh Saxena
Rahul Kumar
Vijay Kumar
Executive producer: Sameer Rai
Line producer: Munna Rai
Art Director: Amar Rana
Associate Director: Devyani Rode, Rajnish Tiwary
Background Score: Mahesh Naik
Sound Designer: Dheeraj Poojary
Rerecording Mixer: Dheeraj Poojary
DI colorist: Ravi K.parashar
Post Production By: Satish Poojary (Audio Lab)
D.O.P: Sanjay Mehta/ Mukesh Maru
Editor: Kuldip Mehan/ Brajesh Rai/Pankaj Sapkale
Actoin Director: Moses Fernandes
Lyrics: Soni Bros., Brajesh Rai,Bandana Rai
Music Director: Soni Bros.
Story: Brajesh Rai/ Brijendra
Screenplay: Brajesh Rai/ Brijendra/ Devyani Rode
Dialogues: Brajesh Rai/ Brijendra
Choreographer: Pappu Khanna
Creative Director: Pappu Khanna
Produced By: Brajesh Rai
Directed By: Brajesh Rai/ Brijendra
Official Trailer
JEENE KI UMEED TUMSE HI has already created a great base among the fans. There have already been a lot of interviews Mr. Brijesh Rai was called up for. The interviews got viral on social media platforms where people are so much interested to watch WORLD CORONA (COVID-19) FIRST HINDI FILM. People are so eagerly waiting for the release of the movie that we are expecting that the fam and recognition of RAI CREATIVE PRODUCTION will be on a boom as soon as we'll release the film "JEENE KI UMEED TUMSE HI".
Here are a few of our interviews where Mr. Brajesh Rai (Producer, Actor, Writer of the Film) will be discussing about how did he get the idea to write a film script based on CORONA, What made him inspire to switch his job from a Mechanical Engineer to a Producer and Actor of a film, What all complications were faced by him as a new face in the industry and many more things are being discussed by him in the interview. So spare a few minutes and watch the interview that was held on the prestigious news channel "HINDI KHABAR", "MH One and many more.
INTERVIEWS
POSTERS
The Movie was released on March 12, 2021 in limited territories due to ongoing Pandemic restrictions and is pitched to go on air on popular OTT platforms and to be released in rest of the circuits in India.
VISIT OUR YOUTUBE CHANNEL TO WATCH LATEST TRAILERS, PROMOS, SONGS AND INTERVIEWS
Connect to RCP on Social Media
Jeene ki Umeed Tumse Hi was featured in:
https://www.prokerala.com/movies/jeene-ki-ummeed-tumse-hi/
https://newsbox9.com/jeene-ki-umeed-tumse-hi-movie-review-release-date-songs-music-images-official-trailers-videos-photos-news/
https://www.bollywoodhungama.com/movie/jeene-ki-umeed-tumse-hi/
http://www.atharvnews.com/watch-the-first-film-based-on-the-corona-epidemic-based-on-motivation-love-story-jeen-jeeen-aapki-tumse-hi/
http://www.newsonradar.com/08/03/2021/actor-brajesh-rai-sanchi-rai-movie-jeene-ki-ummeed-tumse-hi-releasing-on-twelfth-march/
https://www.upplus.in/2021/03/07/actor-brajesh-rai-sanchi-rai-movie-jeene-ki-ummeed-tumse-hi-releasing-on-twelfth-march/
https://www.khabredinraat.com/jeene-ki-ummeed-tumse-hi-releasing-on-jeene-ki-ummeed-tumse-hi-releasing-on-12th-march12th-march/
https://m.timesofindia.com/videos/entertainment/music/hindi/jeene-ki-umeed-tumse-hi-song-itihas-ke-panno/videoshow/81427777.cms
https://mayapuri.com/first-film-on-corona-period-is-about-to-release-in-theatres/
https://m.timesofindia.com/videos/entertainment/hindi/jeene-ki-ummeed-tumse-hi-official-trailer/amp_videoshow/81426474.cms
https://m.timesofindia.com/entertainment/hindi/movie-details/jeene-ki-ummeed-tumse-hi/amp_movieshow/81425837.cms
https://www.jagran.com/uttar-pradesh/deoria-brajesh-of-deoria-made-a-motivational-film-on-the-situation-in-corona-era-21446121.html
https://dainik-b.in/BmpkbR3bueb
http://www.newbollywoodnews.com/2021/03/06/actor-brajesh-rai-sanchi-rai-film-jeene-ki-ummeed-tumse-hi-releasing-on-12th-march/
http://www.filmwalaexp.com/actor-brajesh-rai-sanchi-rai-film-jeene-ki-ummeed-tumse-hi-releasing-on-12th-march/
http://breakingfilmnews.in/2021/03/06/actor-brajesh-rai-sanchi-rai-film-jeene-ki-ummeed-tumse-hi-releasing-on-12th-march/
http://newsroundup.xyz/2021/03/06/actor-brajesh-rai-sanchi-rai-film-jeene-ki-ummeed-tumse-hi-releasing-on-12th-march/
http://moviemanoranjan.in/2021/03/06/actor-brajesh-rai-sanchi-rai-film-jeene-ki-ummeed-tumse-hi-releasing-on-12th-march/
http://www.videoworld.co.in/2021/03/06/actor-brajesh-rai-sanchi-rai-film-jeene-ki-ummeed-tumse-hi-releasing-on-12th-march/
http://cinenews.xyz/2021/03/06/actor-brajesh-rai-sanchi-rai-film-jeene-ki-ummeed-tumse-hi-releasing-on-12th-march/
http://fastforwardnews.in/2021/03/06/actor-brajesh-rai-sanchi-rai-film-jeene-ki-ummeed-tumse-hi-releasing-on-12th-march/
http://ultradigitalnews.online/2021/03/06/actor-brajesh-rai-sanchi-rai-film-jeene-ki-ummeed-tumse-hi-releasing-on-12th-march/
http://www.flashnewspost.xyz/2021/03/06/actor-brajesh-rai-sanchi-rai-film-jeene-ki-ummeed-tumse-hi-releasing-on-12th-march/
http://leomedia.in/actor-brajesh-rai-sanchi-rai-film-jeene-ki-ummeed-tumse-hi-releasing-on-12th-march/
http://www.filminews.co.in/actor-brajesh-rai-sanchi-rai-film-jeene-ki-ummeed-tumse-hi-releasing-on-12th-march/
http://bollywoodheadlines.in/2021/03/06/actor-brajesh-rai-sanchi-rai-film-jeene-ki-ummeed-tumse-hi-releasing-on-12th-march/
http://livewebnews.xyz/2021/03/06/actor-brajesh-rai-sanchi-rai-film-jeene-ki-ummeed-tumse-hi-releasing-on-12th-march/
http://livetopnews.xyz/2021/03/06/actor-brajesh-rai-sanchi-rai-film-jeene-ki-ummeed-tumse-hi-releasing-on-12th-march/
http://www.movieographydirectory.com/2021/03/06/actor-brajesh-rai-sanchi-rai-film-jeene-ki-ummeed-tumse-hi-releasing-on-12th-march/